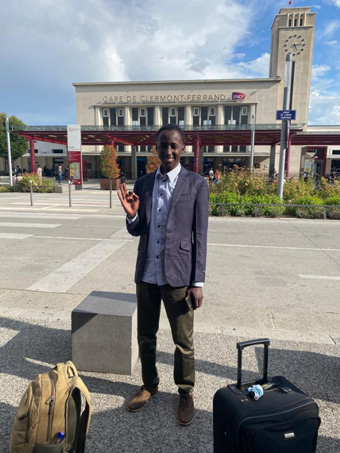 Forum réfugiés facilitates international mobility to France for 5 refugee students thanks to a University Corridor.
While only 5% of young refugees have access to higher education, University Corridors offer an opportunity for refugees residing in a first country of asylum to pursue their higher education in a third country (1).
After initial experiments in hosting refugee students in 2020 and 2021, Forum réfugiés wishes to develop a University Corridor for 10 refugee students in West and Central Africa through the COMET (COMplementary Pathway NETwork) project. This project, supported by the European Union's Asylum Migration Integration Fund, aims to facilitate the implementation of safe and legal access routes along the Central Mediterranean route.
Within this framework, five refugee students from Cameroon, Niger and Chad are welcomed for this academic year by the University of Clermont Auvergne and the University Jean Monnet of Saint Etienne. After an initial university course completed in their country of asylum, these five refugees will complete two years of Master's studies at the two partner universities.
The implementation of a university corridor requires the involvement of a diversity of actors: universities, foundations, companies, institutions, local authorities and associations. The hosting of these five students is the result of a collaboration between Forum Réfugiés, the UNHCR office in France, the two partner universities (Université Clermont Auvergne and Université Jean Monnet Saint Etienne), the French Embassies in Cameroon, Niger and Chad and Campus France.
The 5 students hosted :
Aymard was born in the Central African Republic and fled his country in 2013 to take refuge in Cameroon. In 2019, he entered a Master's degree in International Relations, in parallel with an associative and humanitarian commitment. He is enrolled this year in a master's degree in economics and development at the University of Clermont Auvergne.
Habib is of Central African nationality. He left his country in 2014 due to conflicts to take refuge in Chad. Prevented in 2020 by the pandemic from continuing his studies in master, the young man wants to participate in the fight against climate change. This year, he is joining a master's degree in development economics "sustainable development course" at the University of Clermont Auvergne.
Brahim is a young Chadian who has been a recognized refugee in Niger since 2014. He obtained a degree in general administration in 2017. Eventually, he would like to develop a project in agribusiness in Africa and to give himself the means to do so, he is integrating a master's degree in the field of management and business administration at the University Clermont Auvergne.
Primitive is Rwandan. She has been a refugee in Cameroon since 2006. After a master's degree in finance completed in Cameroon, she joined the master's degree in finance "consulting and financial engineering" at the University Jean Monnet in Saint Etienne.
Océane is a Central African national. She left her country in 2013 and took refuge in Cameroon. In 2018, she is finalizing a Bachelor's degree in accounting. She is admitted to the master's degree in project management "international management course" within the Jean Monnet University of Saint Etienne.
1. Currently, according to UNHCR, only 5% of refugee youth have access to higher education, compared to 37% of all youth. UNHCR's goal is to reach 15% of refugee youth enrolled in higher education by 2030. In addition, UNHCR has also set a goal that by 2030, 2 million refugees will access complementary pathways, which are legal and safe pathways in addition to refugee resettlement, allowing refugees to stay legally in third countries where their international protection needs are met. Academic mobility is one of the complementary pathways.